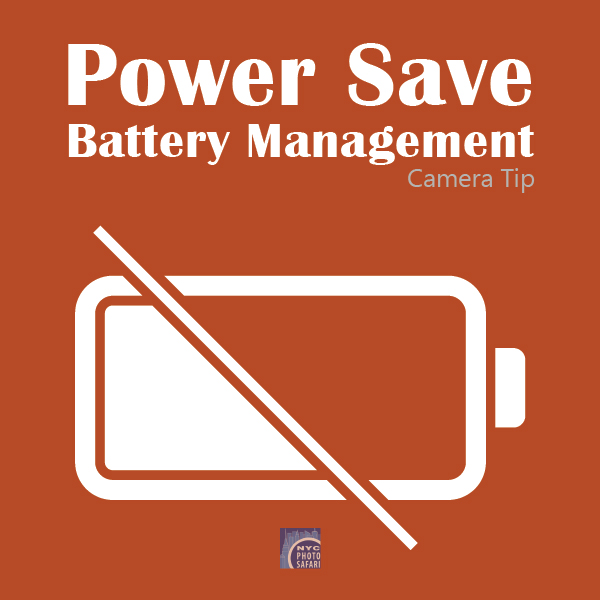 Recently I ran into a common camera battery issue. I was out taking photographs and had planned to be out for about 12 hours. About 4 hours into my day, my battery indicator light started flashing! Although I had another battery with me, the first was meant to get me through most of my day. I wondered if I would be able to get to the 12th hour? In the end, all was well, but it was a worrying day. So here are some strategies for managing battery power.
1. DO NOT use Live View or the large LCD on the back of your camera. It uses a lot of battery power.
2. Turn off all unnecessary displays like the information panel on the LCD. You have most of that information available inside the viewfinder and on the top LED panel anyway.
3. Turn off your automatic review. In other words, don't let your camera display the image on the LCD every time you take a photo.
4. Don't review your pictures longer than you need to.
5. Shorten the auto sleep time so that if you are not using your camera it will go to sleep sooner.
6. Turn off auto sensor cleaning. You do not "need" your camera to clean the sensor every time you turn the camera on and off. 

7. Only write to one card. If your camera has 2 card slots and you are writing to 2 cards at once as a way to backup your data then you are burning more battery power because it requires more processing power. In a pinch, stop this action and just write to one.
8. In cold weather keep spare batteries near your body to keep them warm. The cold tends to reduce battery life.
9. Use your battery until it is completely dead. If you have no more spare batteries to use then, as a last resort, try rubbing the battery contacts against your scalp. It should get you about 3 to 5 more frames. Don't ask why, it just works. Hey, it's desperation why not give it a try?
Something else you might want to do is number your batteries with a silver marker. Why? Because eventually your battery will fail and you will want to be able to keep track of the one that did. If you are doing a long exposure, be sure to have enough battery power not only to take the photo but for the camera to process it as well. For instance if you are doing a 30 minute exposure, you'll also need 30 minutes to process it to. There's nothing like losing power 40 minutes in and losing the image altogether.