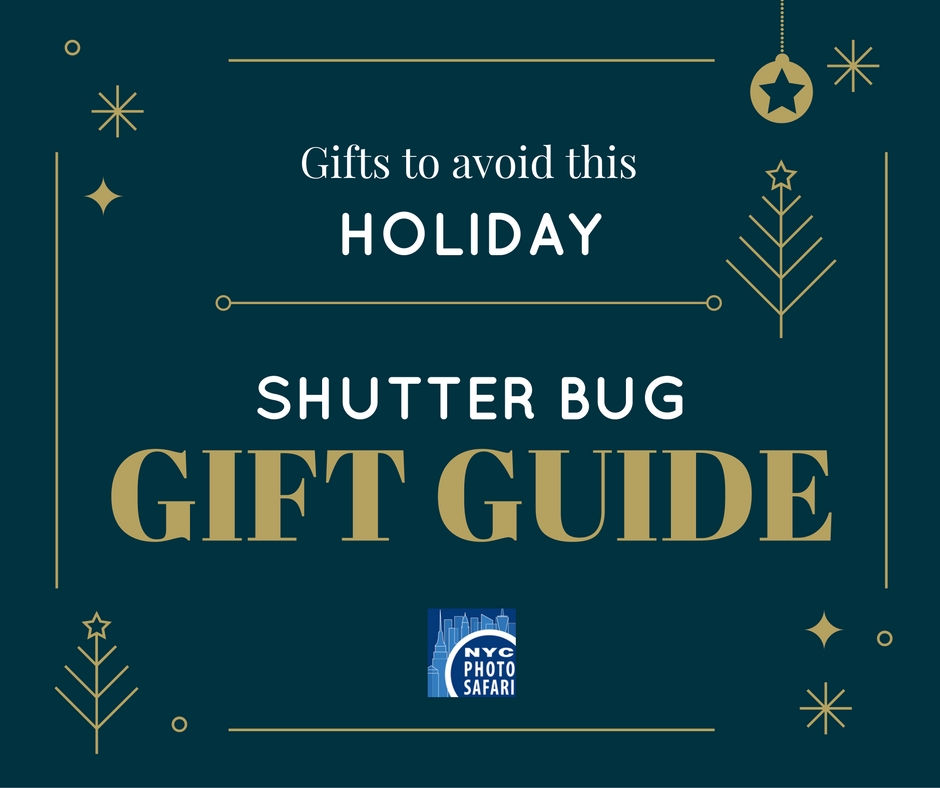 Welcome to NYC Photo Safari's Holiday Gift Guide. Unlike previous years, this year we are going to feature the top ten things you DON'T want to buy for your favorite photographer! Yes, you read that right. The top ten things NOT to buy. For the photographer who seemingly has everything it is very tempting to buy gadgets small and large, inexpensive to outrageous, but not all of these are
---
worthy of possession. Here we list just 10 of them. If you have a question about something not on the list, feel free to send our photo maven a message by clicking here:
ASK A QUESTION
If you are looking for some serious advice on what to buy please scroll down to the bottom where you'll find some helpful links. Having said this we do ask that you consider the environment before you make a purchase this year. Please ask yourself if the camera equipment is necessary or whether an upgrade is warranted. If you are upgrading please donate your used equipment to a local school, they'll love you for it. We are currently collecting equipment for a public school in NJ. If you would like to ship us your used digital camera please send us a message to the link above and we'll send you the information.
Ok, here's our top ten things NOT to buy your favorite photographer (in now particular order)
1. Camera Lens Bean Bag
If you look at the specs for this product you will find that it is 14 ounces! Can you imagine packing this in your luggage? Or carrying it around? How will it fit in or on a camera bag? It is marketed for landscape photographers; if this is the case then that photographer probably doesn't travel very far from his/her car! Instead of buying one of these try a tripod instead! If you like lying in the dirt while photographing landscapes, then this is for you!
2. Optical Dot Sight with Hot Shoe Adapter
No one here at NYC Photo Safari is particularly clear why any photographer would need one of these, other than to try and make your camera look bad ass. If you know a good use for this please send a message to the link above!
3. THINGUMA K-532 Camera Mounting Plate Combo Tool
There are many many good and great pocket/wallet size multi-tools. This is not one of them. A key or even a US quarter would probably serve just as good as this. This would not work on most Manfrotto tripods.
4. Lenspen Mini Pro II Compact Lens Pen Cleaning System
Although everyone needs to clean their lenses every now and then, this is not the device to clean it with! Here's the fundamental problem with this device. What happens after you've used it a few times to clean a couple very dirty lenses? How will you clean the device off? Aren't you then just pushing grit and dirt around? You would be better off to carry a cleaning cloth which can be put into the wash every now and then.
5. Holga Pinhole Lens Red for Nikon or Canon
Imagine this, you have purchased a very expensive camera, be it Nikon, Sony or Canon etc. Now Holga is suggesting that you buy their very cheap (well not that cheap) plastic lens to make your image look a little bit fuzzy as if it were photographed through a cheap piece of plastic - because that's what it is! Why would you do that? Just put a finger print on your lens for the same thing. Don't buy this.
6. Camera Lens Filter Wrench Set
These seem like a great idea but if you have a very stuck camera filter they don't really work. Use a thick rubber band to get a grip on the filter instead. Click on the image and you will find the amazon.com page with 32% of people saying it did not work or broke. You will also find some great tips on how to get a stuck filter off your lens as well.
7. ZipShot Compact Ultra-Light Instant Tripod
Everyone wants a more compact, lighter weight and easier to use tripod. This tripod accomplishes the latter two but not the first - definitely not compact. You can certainly find more compact tripods. In addition, it is so flimsy that blowing at your camera may be enough to give you a blurry image. Any other tripod, including a MeFoto, would work better than this!
8. Flash Memory Card to DVD Disc Portable burner
There was a time when this would have been extremely helpful - like 10 years ago. However today with 1TB portable external drives going for $50 USD, there is no need for this device. Not only would it be slow to transfer your images, you would also have to carry enough discs to accommodate all of your photographs too! USB keys now have higher capacity than DVD's.
9. Holga 15B Electronic Flash Unit with Filters Black
This is an external flash unit made by a company that made its name selling plastic cameras with plastic lenses (see above) with light leaks. If you are wondering why anyone would buy a camera with light leaks, think hipster 20 something year old thinking how cool their images would look with weird light streaking randomly through their images! Buy a real flash, not this. And if you don't have the money to do so, the little pop up flash on your camera will do just as good of a job as this. And if you think those pieces of colored plastic is cool, just get colored pieces of plastic for your pop up flash.
10. Areaware Golden Section Finder
If you are having trouble with your composition, this will not help you. Composition does not rely on strict formulas; it relies on experience and feeling. A piece of plastic will not help you with that. If anything, please join us for a session and we'll show you how it's done - hands on!
For real advice on what to camera equipment to buy please visit our Photography Gift Guide
We are also posting on Pinterest.com/nycphotosafari