360 Photography @ World Trade Center
Saturday, April 27, 2019 ( 01:30pm - 03:30pm )
Please fill out the form below. Please note that for your security, we have separated our reservation and payment system. You may have to enter some of your personal information twice.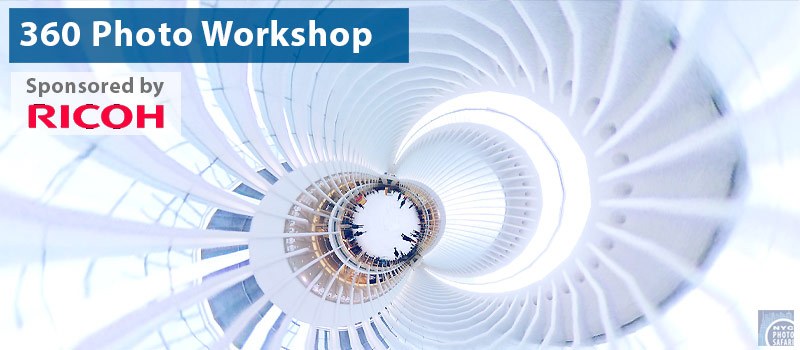 Join New York City Photo Safari for a 2 hour 360 photography workshop. We've teamed up with Ricoh who will be providing ALL participants with a Theta SC 360 camera for the duration of the workshop. This photography workshop focuses on how to take pictures of the environment (from cityscapes to landscapes) with a 360 camera. The safari will take place at the World Trade Center where you'll get a chance to photograph the beautiful World Trade Center, Oculus and we'll also venture to the new Fulton Train station as well. For this session you'll need to bring either your Android or iPhone and you'll need to download the Ricoh Theta and Theta+ apps (More information will be made available after registration). During the workshop you'll also learn how to use the editing software to create amazing images with a 360 image. If you've been wondering what shooting in 360 is all about well this is your chance! This workshop is appropriate for all levels of photographic knowledge from beginners to advanced hobbyists. (limit 15 participants per safari)
meeting point:
World Trade Center
time:
2 Hours
fee:
$10
Equipment:
360 Camera Rental Included
**To begin registration click on a link below; to view more dates choose an option at the bottom of page.