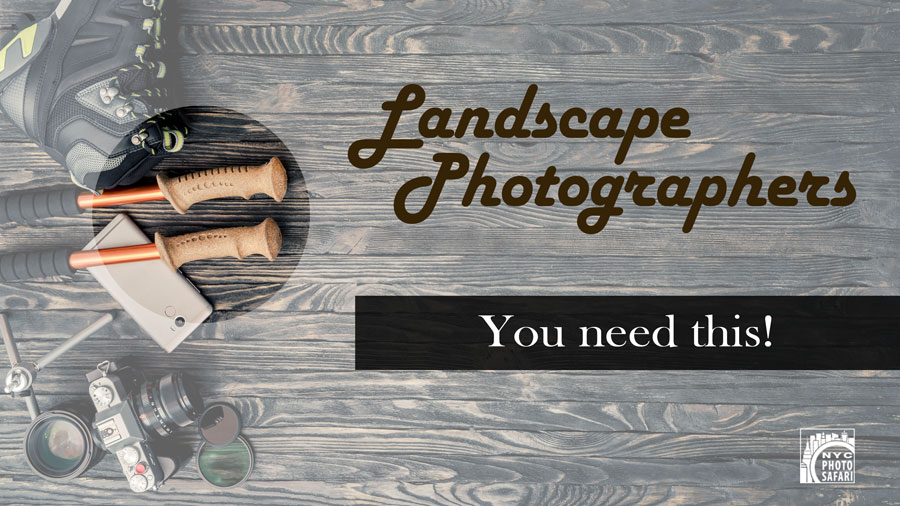 If you are a lanscape photographer and you have not discovered the joys of trekking poles, then you're missing out. When used properly trekking poles like the can help take the pressure off of your back and knees as you climb up and down hills or scramble over boulders to get to that remote location. Aside from water your cameras, lenses and tripod will really weigh you down. Trekking poles will help you stay more upright, go uphill better, and most importantly take the pressure off your knees and back on the down hills. Even if you do not have back or knee problems, trekking poles will extend your endurance, allowing you to stay on the trail longer for those all day dawn to dust shooting excursions.
Another benefit is they will help you maintain your balance; with $10,000 of camera equipment in your back you'll be able to cross slippery rivers with confidence.
Some trekking poles now allow you to attach your camera at the top of the pole; making it a convenient monopod without added weight. Instead of mounting your camera directly on the pole, attach a small ball head; this will make your new monopod even more useful. Please note that trekking poles are designed to take your entire body weight on the down hills while your monopod is only designed to take the weight of your camera. It's probably not advisable to use your monopod as a walking stick; in other words a monopod is not a trekking pole but a trekking pole can be a monopod.
Are you convinced yet? Here are some buying tips.
1. Poles are not unisex, those made for men and women are different. Men's poles have a bigger hand grip while women's have a smaller one. A large hand grip for a small hand will increase hand fatique over the course of the day. A hand grip which is too small will not offer enough support. Men's poles are longer than women's. Unless you are very tall, the extra length equals added weight.
2. Cork vs Rubber - cork grips are lighter weight and offer more vibration and sweat absorbtion than rubber
3. Carbon vs non carbon - as with tripods carbon fiber poles are lighter weight and absorb more vibration. Although a lightweight tripod is not always desireable a lightweight trekking pole is!
4. Shock absorbers vs none - a shock absorbtion system does what it is supposed to do, however it will also add weight to the pole; you will have to decide which is best for you.