Top things to do in NYC this weekend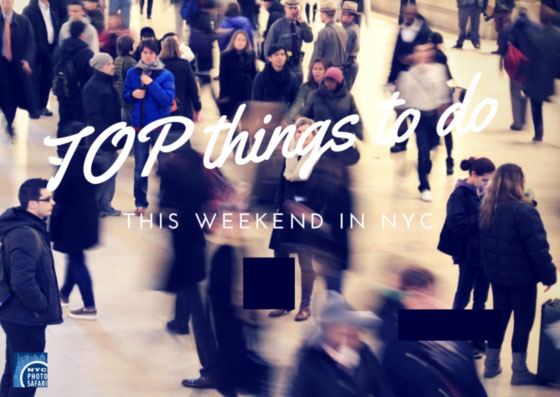 Aside from the obvious thing to do this weekend, which is a photography workshop with NYC Photo Safari so you can take incredible pictures of the top 10 attractions in Manhattan, here is our list of our other favorite cool things to do in NYC.
Go to the Brooklyn Bridge Park and walk along the water. The Brooklyn Bridge Park has the best view of the Manhattan skyline. While there, stop by one of the best ice cream spots in all of New York City (the Ample Hills Creamery). Or if you need something more substantial, visit local landmarks Grimaldi's Pizza aor the Shake Shack for a great burger.
Whether you are a local or a tourist, there's nothing like the Statue of Liberty. It is perhaps one of the coolest things about NYC that locals rarely visit. Although the Statue of Liberty is a must do for tourists, most just take pictures of the statue and leave. As a result, the island itself with its amazing views of lower Manhattan and the Freedom Tower, is practically empty. So it's probably one of the best local excursions for a picnic on a warm weekend and to enjoy the outdoors. The National Park Service also gives free, guided tours.
Everyone knows Central Park is the best urban park in the US (wink wink) but unless you live near the park, most visitors tend to stay near the more iconic areas, like the Promenade and the Bethesda Fountain. Why not do something more interesting and create your own walking tour by visiting the lesser known areas like the Harlem Meer or the Conservatory Garden. You can map out a walking tour of all the bridges in the park making special note of the unique graphics in the construction of these bridges. The Central Park conservancy also offers classes and work shops on the weekends appropriate for adults and families.
The Cloisters is perhaps the most overlooked attraction in NYC. It's in upper Manhattan and often considered difficult to get to, but in reality it's no more difficult than getting to Brooklyn. The museum is run by the Metropolitan Museum of Art and has an interesting collection of medieval art.
Aside from visiting NYC's many landmark sites or attractions, look for street events. During the spring, summer and fall, street events abound throughout the city, from food tasting events to cultural parades like the Puerto Rico Day parade. In the winter, look for the Thanksgiving Day Parade and the St. Patrick's Day Parade among others. These local happenings make for great pictures and add some local flavor to your NYC excursions.
Among the many activities in NYC is every kind of workshop/class imaginable ranging from wine tasting, to horseback riding, or how about rock climbing. In Brooklyn there is a class on how to fall. Have you ever wanted to join the circus? Take a clown class or a trapeze work shop at Chelsea Piers. These workshops can last just a couple of hours to multi sessions over several days. You'll end up with a more interesting story than most tourists if you're willing to try something new.
Of course we think the top thing to do any day in NYC is a Photo Safari with us.
Although NYC is famous for its pizza and hot dog stands there's much more to dine on. In New York City you can find food from every corner of the planet. From elegant vegetarian (Candle 79) to all you can eat Brazilian beef (Plataforma); there are even Australian coffee shops. So venture from the familiar chain restaurants while you are here and explore all the city has to offer.
The last thing we would recommend if you are a local, is to be a tourist. And if you are a tourist, be a local. New York City is a great city and yet many locals have never really experienced their own city. The sheer number of locals who have never walked the Brooklyn Bridge or been to the Statue of Liberty is astonishing! So spend the weekend taking a walking tour or just go see the sites. Here are some great one day itineraries Tripline.net/nycphotosafari .On the other hand if you are a tourist, take a day to relax and be a local. Don't do a "must see attraction", don't do a walking tour and stay away from the landmarks. For one day of your NYC holiday, go to the village and sit in a coffee shop for a couple of hours, find a street event, and have an arepa. If you really want to know what it's like to live here, the best places to visit would be the outer Burroughs like Queens or Brooklyn. The outer Burroughs have plenty of things to take pictures of and cool things to see, even though they may not be iconic, they are still quintessentially new York.
Three of the most popular excursions out of Manhattan are: Niagara Falls, outlet shopping in Pennsylvania, and Washington DC.
To journey to Niagara Falls, you can arrange a bus tour with one of the many tour operators leaving from Manhattan or you can take a flight. If you are flying, be sure to get a window seat so you can take pictures of this amazing landmark.
Although there are not a lot of photo ops while outlet shopping, and it's not "iconic", these one day and half day excursions are a nice thing to do if you want a change of pace from the bustle of Times Square and Macy's and you won't need a tour guide to show you around. However, a good pair of walking shoes is a must.
Washington DC. For a great weekend excursion out of NYC, head south to the Nation's capital. DC has tons of free attractions and must see landmarks. You can even do a photo Safari with Washington Photo Safari. To get to DC you can use Amtrak or take a bus like Tripperbus.com

---