How to Photograph Fireworks #48
Photo Tips Podcast: How to Photograph Fireworks #48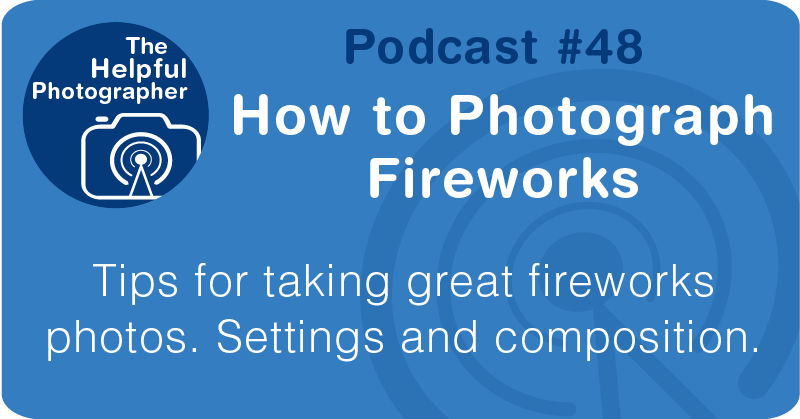 iTunes Google Spotify Tune In Stitcher RSS Pandora
Transcript
Photo Tips Podcast: How to Photograph Fireworks #48
Summer is upon us which means the fireworks season has started and photographers are asking about how to photograph fireworks. First of all the largest annual 4th of July fireworks display happens right here in NYC every year and it lasts only 25 minutes! While the nightly Disneyland fireworks display lasts approximately 15-18 minutes! I'm not telling you this because I want to brag about New York City. I'm telling you this because this, this ain't a lot of time, so there won't be much opportunity for trial and error. Since Disneyland has a fireworks display every night throughout the summer, you'll actually have plenty of opportunities to practice, that is if you are lucky enough to live near a Disneyland. Aside from the very short duration, another problem with fireworks is that each display is choreographed differently and unless you know the choreographer personally it's going to be hard to know what to anticipate next. That is unless you are shooting the Disney display because it will be the same night after night after night.
Aside from trying to anticipate what is going to happening, the most important thing about shooting fireworks is getting the shutter speed right. If you decide to hand hold your camera you will be forced to shoot a fast shutter speed, which means you'll only get dots of light rather than those nice long trails which makes photographing fireworks so fun. I have come to find that the ideal shutter speed to get those trails of light is between 1 and 2 seconds. Much more than that, the fireworks become a bit of a mess.
As for your aperture well that's a bit problematic, as it depends on what's happening which is difficult to predict. I have found the most success between f/8 and f/11 at an ISO of 100. What you'll want to do is to take your first shot at one of these settings, quickly review the image and then make adjustments accordingly. If the fireworks are totally blown you'll want to close up your aperture; if it's too dark then you'll need to open up. Since we're right in the middle and you're likely to be shooting close to infinite if not at infinite, you'll have plenty of room to maneuver your f/stop without having to consider your depth of field or fidgeting with your ISO.
As it's difficult to anticipate what is going to go up next and what you really want is more than one burst, you could consider a multiple exposure. If you have a camera that will do this, it's an easy option. But unfortunately you will need to decide how many frames you want ahead of time without knowing what will be in the sky. So a better option might be to use your bulb mode with a cable release which will allow you to keep your shutter open as long as you like. So after setting your ISO and your f/stop where you want it, set your on bulb. Before you click to open the shutter, hold a black matt board in front of the lens. As soon as you see the explosion go off, remove the card; after about a second cover the lens again while leaving the shutter open. Repeat this process for as many bursts as you want. But remember you don't leave the lense open for more than 1 or 2 seconds. You will need to be careful choosing when to uncover your lens because if the subsequent bursts happen right where the last one did, eventually you will have an extremely over exposed white mess. Ideally what we really want are bursts that are in different parts of the frame. And do be careful not to bump the camera when doing this. Once you have as many bursts as you want close the shutter and start a new frame. If you want to practice this ahead of time but don't want to leave your house, here's a CRAZY idea. I know this may sound totally stupid but it actually works. Go to youtube and search for a fireworks video. Open the window to the full size of your monitor. Put your camera on a tripod and in front of the screen. Turn off all your room lights and then shoot it with the instructions I just gave you! You may need more aperture because you are shooting your computer monitor, but fundamentally this actually works and you'll better understand the timing you'll need to get a great burst! Hopefully this will give you enough practice to be successful during the real event.
So far I've only talked about the fireworks, what about the rest of the landscape? Let's face it, just shooting the fireworks is pretty fun, but a great photo would probably include something like the New York City Skyline along with the fireworks, right? Here's the problem, if you include something other than the fireworks it's likely that it will require a significantly different exposure than the 1 second at f/11 at ISO 100. It's likely a much longer exposure. If it were me I would plan to be there the night before to just shoot and run a test to see what I need my shutter speed to be. Let's say the correct shutter speed is 10 seconds, this would mean that if you moved your matt board away from the lens 10 times and allowed the light to enter for 1 second each time, you are likely to get the buildings in the back pretty well exposed. But what if you don't want that many bursts in the sky? Then you are going to have a grossly under exposed skyline. On the other hand let's say it was a 2 second exposure? Now you're kinda screwed, because if you move your matt board away more than 2 times, you are going to blow out your landscape. My inclination would be to set up my shot and to lock down my tripod and to do a bracketed shot of the skyline before the fireworks started or after they have finished. And then to do individual 1 and 2 second exposures of the fireworks and merge the images in post process. This would help ensure that both the landscape and fireworks look great.
One last note, over the past decade or so, fireworks displays are often set to music, and that music is usually broadcast via the internet or the radio. If you know ahead of time, what song they will choreograph the fireworks to you might be able to anticipate when the fireworks will slow down or speed up. One thing for sure is that most displays start slow and then there's a big bit in the center as it slows down again and then a huge finale. So keep an eye on your watch so you can time things out a bit better.  This is important because after the fireworks bursts in the sky, they usually leave a lot of smoke behind; unfortunately this doesn't make for great photos. So your best chance will be at the early part of the event or after a pause. Sometimes there is enough of a pause in the fireworks that the smoke will clear and you another chance. Yea, there's a lot of moving parts to creating a great fireworks photo and now you know why at the beginning of this podcast I brought up the limited amount of time you have to shoot this. I know it's not going to be easy but good luck.
---