Photo Tips Podcast: How to Use Bulb Mode #49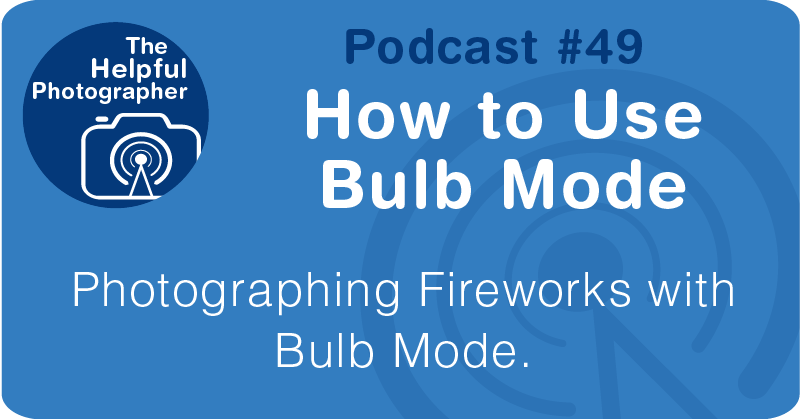 iTunes Google Spotify Tune In Stitcher RSS Pandora
Transcript
Photo Tips Podcast: How to Use Bulb Mode #49
After I published last week's podcast on shooting fireworks, a listener reached out to me with some questions and comments, and it would seem that I missed a few important bits of information. The first is the Bulb mode and how to use it. The key is that the vast majority of digital cameras have a maximum shutter speed of 30 seconds programmed into the camera. I've only seen a few cameras with a longer shutter speeds program directly into the camera. So if your camera only has a maximum of 30 seconds programmed in, how do you pull off exposures that are longer than that? This is where your Bulb or Time mode comes into play. When you're in a Bulb mode, the shutter opens when you press the button and will stay open as long as you keep your finger on the shutter. On the other hand if you have a Time mode the shutter will open when you press and release the button and will stay open until you press and release the button a second time. It should be noted that this is the way Bulb and Time modes have traditionally worked but in the age of digital things may be a little bit different on your camera and you'll need to check before you head out for your shoot. What are you talking about? Well if you're shooting in Bulb mode and you have a touch screen capable camera and you're shooting with a mirrorless camera or in live view, when you touch the LCD the shutter will open and will not close until you touch it a second time. In other words it's working the way Time mode is supposed to work. This is also true most of the time when you're using a wireless remote. So if you open your shutter with a wireless remote in Bulb mode, you don't have to keep your finger on the remote button and pointed at the camera. You would only need to press it once to open the shutter and then press it a second time when you're ready for the shutter to close. On the other hand if you're using a wired remote instead of a wireless remote all bets are off on how it works. Most often you will need to keep your finger on the button to keep it open and Bulb mode. This is why many wired remote releases have a locking mechanism on the button. That way you don't have to stand there with your finger down on the button for the duration of your exposure. It should be noted that you can also get a digital remote release these days whereby you can program in the number of interval shots that you want beyond the capability of the camera and you can also program in the duration of time you want the shutter to be open beyond the 30 seconds. Again I would highly advise that you check your camera and or your remote release and know how they work before you head out, because most likely you'll be shooting in the dark and that's not a good time to be working out the kinks. In most cameras you can find the Bulb mode by going to your manual mode and scrolling the shutter speed past 30 seconds. Or it might be on the top dial of your camera indicated by the letter B. Hopefully I've helped you better understand last week's podcast; when I said that you could use a Bulb move to essentially do a multiple exposure this is what I was talking about. So what you're doing is you're opening your shutter and keeping it open. The reason this is not a problem is you're covering your lens with a black map board so even though it's open it's not getting any exposure; only when you're moving the map poured out of the way are you exposing the sensor. Hopefully your Time will be perfect and you only do this with the most beautiful fireworks go off. Theoretically you can do this for as long as you like if each firework explodes in a different part of the frame. If the fireworks keep overlapping the same place in the frame you're just gonna have a messy bright spot. So again this is gonna be a tough thing to predict.
In last week's podcast I also said that your exposure should be between 1 and 2 seconds. What I should have said was that a 1 or 2 second exposure is a good starting point. The listener who contacted me shared some images shot between 5 and 6 seconds and they were just fine. In reviewing my own images from 3 different shoots here in New York City I know that anything longer than 2 seconds for me would have gone horribly wrong. So your results really depends on what pharmacy getting shot into the sky, along with the results you're hoping to achieve. I also spoke to another photographer who asked me why not just put it on interval shooting and let the camera do a 2 second shot continuously for the duration of the display. In other words "spraying and praying". My response is this: great photography it's not happenstance. I strongly believe that shooting with intention will greatly increase the probability of getting the image you actually want. While spraying and praying? That's just playing the lottery. Also if you're shooting on interval timer like this you're not likely to check to make sure that your exposure is correct or double checking your focus. Again unless you're shooting at Disneyland night after night you won't know what will and will not work ahead of time.
Lastly what about shooting in Shutter Priority? You can not shoot in Shutter Priority because a camera will likely make the wrong decision when it comes to exposure. Remember the camera in any of your auto modes and this includes: Shutter Priority, Aperture Priority, Program, and Auto will take a meter reading the instant you press the shutter and make adjustments based on that reading. It assumes that whatever you're photographing will have the same light throughout the exposure as you did when you took that initial reading. When you're photographing fireworks with the long exposure this is completely not true. The fireworks will get brighter and the darker as it does its thing. This is why it's imperative to shoot in Manual mode as you will make a decision on the exposure ahead of time and you're telling the camera to stay put until you tell us otherwise.
I really hope that cleared up any questions about photographing fireworks in the next podcast I'm going to invite astronomical observer Tony Cook onto the podcast to talk about shooting the night sky. Until next time keep on shooting.