Photo Tips Podcast: Pros & Cons: Carbon Fiber Tripods #56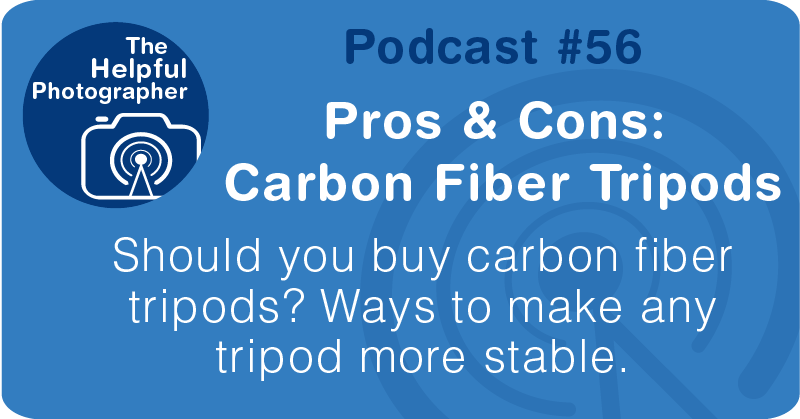 iTunes Google Spotify Tune In Stitcher RSS Pandora
Transcript
Photo Tips Podcast: Pros & Cons: Carbon Fiber Tripods #56
In the early part of my photography career, carbon fiber tripods were a new thing and they were extremely expensive. As a matter of fact, at that time the only manufacturer of carbon fiber tripods was Gitzo! Today, almost every manufacturer on the market has a carbon fiber tripod in their product line. Although I spent most of my career longing for a carbon fiber tripod, now that I can actually afford one? I've come to the conclusion that they are not worth it. Or at least not for the things I tend to shoot.
Fundamentally the purpose of a tripod is to stabilize our camera so that we can do a long exposure. The reason that tripods have 3 legs is so that they don't tip over – well duh. Pretty much everyone has figured that out, I know, I didn't have to say that but. The problem we face with a tripod is that very often we attach very heavy camera gear on top of them; to make this stable, your tripod needs either weight or mass; people who by carbon fiber tripods typically buy them for travel, so tend to buy small ones. As a result the tripod can get very tippy because it's not only small but lightweight while the camera remains heavy. A way to overcome the "tippy-ness" of these lightweight tripods would be to get one with beefier legs. Although pound per pound, carbon fiber is stiffer and much lighter than aluminum, unfortunately the only part of a tripod that tends to be carbon fiber are the tubes that makeup the legs. While the joints and the heads remain the same. What happens is when you get to the larger size tubes all of the joints also get bigger. So in the end with the larger carbon fiber tubes you have to have larger joints which actually re-introduces weight back into the system. If we compare 2 tripods of the exact same design, but one is carbon fiber and the other is aluminum, what you would find that the carbon one is only moderately lighter. Often only about 10% lighter. But due to the weight loss the tripod now tends to be more "tippy" and you will need to deploy other strategies for stabilizing your camera.
One way is to bring sand bags to put on the legs of your tripod, which totally defeats the use of a lightweight tripod. Another is to lower the center of gravity. Which can be easily achieved by hanging a weight to the center column; that's why there's often hook designed specifically for this purpose at the bottom of the column. Many photographers like to hang their bag there. But the problem is that if you are anything like me, most of the contents that make the bag heavy are now on top of the tripod, so that's not really helpful. But even with a heavy a bag I often find that if there is a breeze it will swing the bag around, defeating the purpose of the tripod. So if you are going to use your bag, put the bag on the ground and then attach it to the center column with a rope. If your bag is not heavy enough you could bring a corkscrew dog stake to tie the center column too. That is if you are on dirt soft enough to take the stake. This could potentially create enough downward pull to make an extremely stable tripod. This would work for any tripod carbon or aluminum. And it's much lighter than carrying a sandbag.
Another way to make your tripod less tippy is to move the legs more outwards; what this does is, you will lower the center of gravity, creating more stability. However, for this to be effective it would require legs that have some stiffness. If you have a travel tripod with skinny legs and a lot of flex this will probably not help much and may even introduce more issues. This is where a carbon fiber tripod comes into play. They are much stiffer than the conventional aluminum tripod, so if you have a small carbon fiber tripod you would probably be able to spread the legs out further to gain that stability. But it also means that you lose your height. So, to this end why not just carry a more compact aluminum tripod where you can keep the height rather than going to a larger carbon fiber tripod to get back that height?
As I said earlier, although a key benefit of carbon fiber is that it tends to be more rigid and stronger than aluminum under most circumstances, you need to be aware that there's an issue of quality control. Unlike Aluminum there can be huge differences from one manufacturer to another, as there are many different ways to make carbon fiber which would affect its rigidity and strength. So unless you are familiar with the manufacturing process it's difficult to know what you are getting, especially on the lower end of the spectrum. Very often cold temperatures can make carbon fiber brittle, which means if you drop the tripod in very cold temperatures, the legs may crack and yes I have actually seen this happen. This would not be the case with aluminum.
As you can see there are some benefits to carbon fiber tripods, but from the travel to the medium size tripods they present more problems than they solve. On the other end of the spectrum you would definitely see a great weight reduction and some benefits to moving to carbon fiber. However if you are shooting in studio I would suggest a really heavy tripod, why? Because studio spaces tend to be a bit tight and there is a tendency to trip over things like tripods. And so a heavy tripod is helpful, and since you are not going far there is no need for weight reductions.