Photo Tips Podcast: Sharper Night Photos #57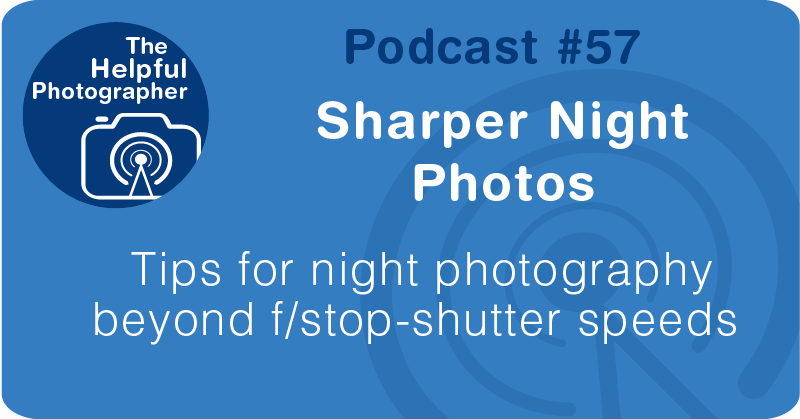 iTunes Google Spotify Tune In Stitcher RSS Pandora
Transcript
Photo Tips Podcast: Sharper Night Photos #57
The question I probably get more often than the one about whether or not you should buy a full frame camera, is how to shoot night photography. And my first answer is always, "There is no easy answer." Unfortunately, for the most part night photography requires an understanding of the f/stop, shutter speed and ISO relationship which I will not get into here. Today I want to talk about the other things that photographers tend to forget that also cause problems. First is a stable tripod. Of course you already know that you'll need a tripod. But many people tend to buy travel tripods or lightweight tripods. Let's face it, no one likes dragging around a tripod. They're heavy and cumbersome. But let's consider why you need a tripod; you need a tripod for stability. One of the ways to gain stability is through weight. If you have a lightweight tripod and a heavy camera, it's probably not going to give you the stability you need. So if you have a lightweight carbon fiber tripod because you want to save the weight, guess what? It's going to have to be a bit bigger and beefier to make up for the weight loss. What I find amazing is the recommendation to purchase a lightweight tripod, followed by the recommendation to bring a sand bag to weigh it down! How does that make sense? Why not buy a heavier tripod and only have to carry one thing around instead of two?
Another recommendation I have heard is to hang your camera bag from the bottom of the center column. This would definitely work if your bag was heavy enough. Unfortunately in my experience, most of the contents of my bag tend to be the camera and the lens which is now sitting on top of the tripod. But if your bag is heavy enough I would suggest you bring along a short rope to tie the bag to the bottom of the center column while the bag is on the ground. There are two reasons for this. The first is to lower the center of gravity which would give it more stability. The other is because if you have enough wind to move the bag this motion will also cause the tripod to move too, because the center of gravity will be rather high. By tying the center column to a bag that is sitting on the ground you're really lowering the center of gravity. If you find that you need more stability but don't want to carry a heavier tripod or a sandbag, another option would be to use a corkscrew dog stake and a rope or a ratcheting tie down. The two items can reasonably light weight and can add a significant amount of stability. Simply tie one end of the rope to the bottom of the center column and then attach it as tight as possible to the stake.
Once you have your camera all set up, you'll probably want to turn off your image stabilization. Although many cameras are supposed to turn this off automatically, you'll want to run a test to make sure it does. If your images seem like they have motion, and you know your tripod is totally locked down, it's likely the stabilization. So do one with it turned on and one with it turned off and see what happens.
Another thing to check would be your mirror lock up. Depending on how long your exposure is, the movement of a mirror in a DSLR may cause some motion blur. A quick and easy way to make sure your mirror is locked is to shoot in Live View. Obviously, if you are shooting mirrorless then you don't need to worry about this at all… because there's no mirror.
Over the last 10 years of meeting thousands of amateur photographers, I have found that the number one cause of blurry photos when doing night photography is often the photographer themselves. I find that many photographers forget and actually lean on their tripod during their exposure. This is a total no no. Another thing that photographers do is they either forget or down own a remote shutter release and rather than gently pushing the shutter button they push it like they normally do. This action alone is enough to move the camera and can be the cause of blurry photos. So gently push the button or use a remote shutter release.
---