Photo Tips Podcast: How to Properly Meter Exposure #60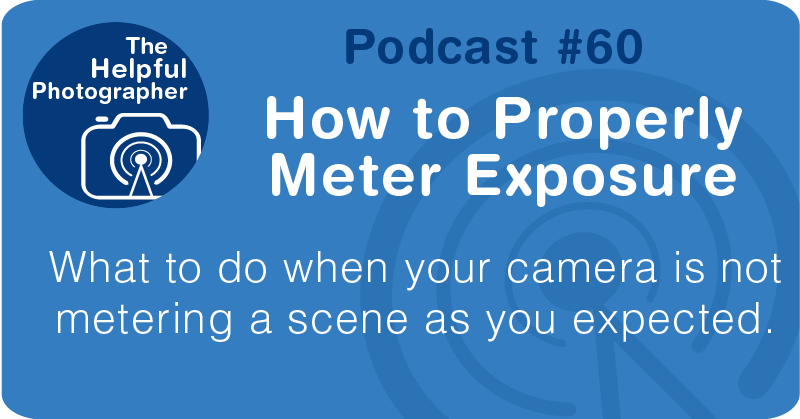 iTunes Google Spotify Tune In Stitcher RSS Pandora
Transcript
Photo Tips Podcast: How to Properly Meter Exposure #60
In the previous podcast I talked about how metering actually works. But as you heard me say, unless you have a hand held incident meter, you may find that the exposure your camera is rendering is not what you expected. So, now I'm going to tell you how to overcome this problem. First I want to say that although the exposure may not be what you expected, it does not mean that the camera is wrong. It's just not what you wanted or expected. What you need to understand is that all metering systems are always always always trying to find the middle exposure. Unfortunately, sometimes the middle does not render the image too dark or too bright for your taste. This problem is almost exclusively relegated to reflective meters the ones we have in our camera.
As I explained in the previous podcast, reflective meters measure everything from the darkest to the brightest areas of the scene and then takes an average of the two. So if your image is skewed disproportionately either to the dark or bright areas then this will skew your average. Making your picture too dark or too bright. There are several ways to overcome this problem. One is to manually override the exposure by moving your f/stops, shutter speeds or ISO. You can also use your exposure compensation up or down, if you're not shooting in a Manual mode. The last way to overcome this problem is to meter the scene differently. The key method many websites recommend is through spot metering. But spot metering works exactly the same as wide area metering, the only difference is that it's taking a reading from a very small area of the frame. What you would do is to take a spot meter reading from something that is middle gray. What you are doing is telling the camera what the middle value of your scene is. This is why a neutral density gray card is so handy. What you would do is to put that gray card in the middle of your image area and ask the camera to take a reading off of that and then remove it just before firing your final shot. But this isn't the most convenient way of taking a reading, especially if you are shooting something on the other side of the Grand Canyo; just as I mentioned in the previous podcast about an incident meter. If you don't have a gray card handy, you could simply choose a spot in the scene that is close to middle gray. The fundamental problem with this method is, unless you know what middle gray looks like, your exposure will still be skewed. The other disadvantage is you will have to continue to take readings off of that area every time you push the button. This is why I just use wide area metering system and then exposure compensate when necessary.
Others will tell you to use Center Weighted metering. Unfortunately, you will face the same issues, the only difference being that center weight metering looks at a larger area of the frame than spot metering and smaller than wide area metering. Remember all three of these metering systems work the same, they take reading and bring us to middle gray. The only difference is the size of the target area that it is reading from. With Spot Metering you can reduce that area to just 4% of the frame, while center weight can be 60 – 80% while wide area can be 80-100%.
For those who freak out about histograms that pull to the right or left. I say meh. As always, my question is, "what do you think of the photo? Do you like it? Does the over or under exposure actually enhance the image? If so why would you bother changing anything?" Unless that exposure renders an image you do not like I wouldn't change a thing. In the next podcast I'll talk about what to do if your images are consistently over or under exposed. It ain't what you think!