You Need These in Your Camera Bag #79
Photo Tips Podcast: You Need These in Your Camera Bag #79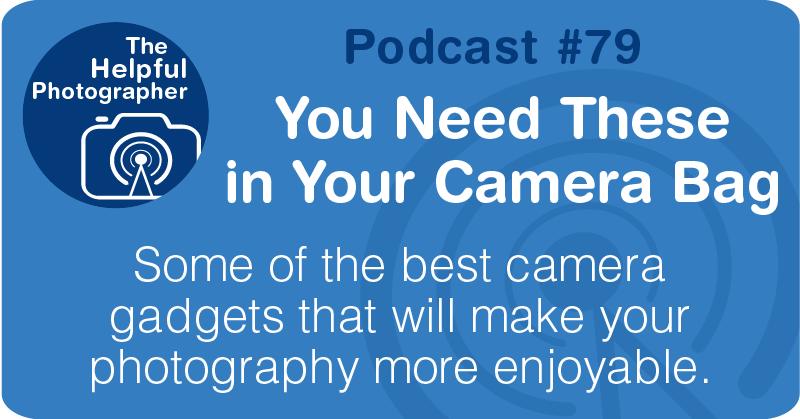 iTunes Google Audible Tune In Stitcher RSS Pandora
Transcript
You Need These in Your Camera Bag #79
So today I'm going to have a little bit of fun. I'm going to talk about some of the best photography gadgets I've ever had the pleasure of using. Let's jump right in.
First off, the Gorillapod. The Gorillapod is a tabletop tripod that has ball joints for legs so you can wrap the legs around objects, eliminating the need to have a flat surface available, and yet still find level.  When this was introduced by Joby it was voted product of the year for like 5 years in a row. I really love these. A few years after they introduced this product, they made a mini version that has magnetic feet which was even cooler. But the problem is that it is only good for point and shoot cameras or smart phones. The larger ones for DSLR really do not work as this technology doesn't scale up very well. So I would definitely recommend this or their mini version for point and shoot cameras or smart phones but definitely not for DSLR. But I still love these things, they're really great.
Next on my list of great camera products is the R-strap by Black Rapid. The first time I saw this strap I realized that after nearly 100 years of portable cameras someone finally improved the neck strap. If you don't know what I'm talking about, it's a camera strap that is built to go diagonally across body, and the camera slides up and down the strap. It has made a huge difference on my back and neck. Black Rapid now has a number of competitors on the market but their straps are still my favorite. Well built products with simple but great designs. But honestly it really doesn't matter what you choose, I would just definitely ditch your neck strap.
Along with the Black Rapid Strap is the Fusion Gear tripod plate. Their plate is meant to replace your RC2 Manfrotto  or Arca Swiss plate. It allows you got quickly get out of your Black rapid Strap and into your tripod without having to unscrew the connector plate first. And it's made it really easy to get in and out of my monopod. This is very cool.
Wireless Shutter releases. I have a simple one button Canon shutter release that I carry with me everywhere and I think it's great. The reason I use this rather than a wired one is because it's smaller, more compact and lightweight. Wired ones have a larger footprint and for the type of work that I do, I don't find the need for anything more complicated.
Next on my list is the Leatherman Squirt PS4. In general I am a big fan of Leatherman multi-tools. They are well built and well designed. My all time favorite is the Juice S2, because it has pretty much everything I need including a pair of scissors and a pair of pliers. Unfortunately the blade is definitely too big to get through any airport security and a couple of ounces more than I want to carry, and this is why I now carry the Squirt PS4. It's basically the same tool as the Juice S2 but in miniature form. I find it shocking how often I have needed a pair of pliers while out shooting.
The last thing you need is a bit of tape. I always put a little bit of tape on one of my tripod legs. There are so many times I need tape it's kind of shocking.
Here are the products:
Gorillapod
Any of these will work great!
Black Rapid Straps
Leatherman PS4
Fusion Plate
Fusion Plate
Canon Shutter Release
Canon Shutter Release 2
---