How To Buy A Used Camera #87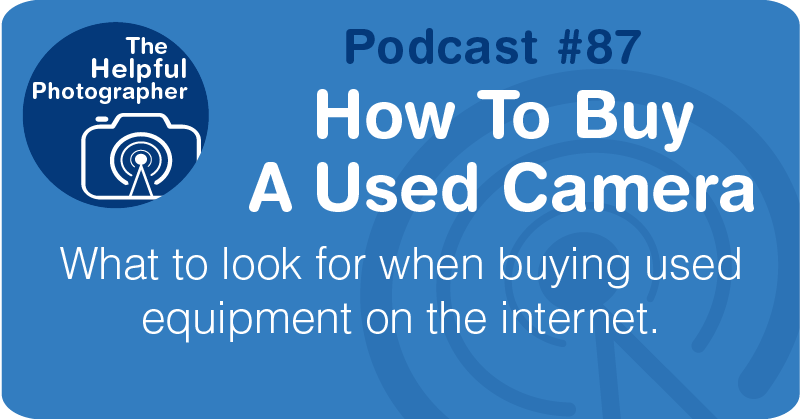 iTunes Google Audible Tune In Stitcher RSS Pandora
Transcript
How To Buy A Used Camera #87
Camera equipment is expensive, as a result many turn to the used market as an alternative to paying full freight for new equipment. Is this a bad thing? Well, in the days of film I had no hesitation suggesting that people buy used gear. But with digital I personally think it's a bit trickier. Let's start with the easy stuff, lenses. Personally I have purchased a couple of used lenses since going digital without a problem. One on Ebay and the other via craigslist where I met the owner at a local diner. When you get to hold the lens in your hand before you buy it, it's pretty easy to tell whether or not there are problems. First of all, look for dents. These indicate impact points. This is pretty much a non-starter for me. After that you'll want to turn the zoom and focus rings, I make sure that it turns smoothly and doesn't stick, then I listen and feel for grit. Grit indicates that there is sand in the lens. This is bad. Take a pass unless the price is crazy cheap. As you turn the barrel look for whether or not it's sticky. If it is, does the lens move at an angle as the elements move forward and back? If so the lens has been dropped. It's not worth anything, for this take a hard pass. If it has all internal moving parts and does not telescope; in other words, if the front of the lens doesn't move away or closer to the body as you move that zoom ring, it has internal elements. In any case, as you turn that barrel does it stick? Because if it's sticking and there's no impact point, you don't know what the cause is. It could just be dirty but if it's something else it can spell trouble down the line. But even if it's dirty, that could also spell trouble down the line. The next thing is to take a look at the front and rear glass elements. Are they scratched in anyway? Scratches on the back? Take a pass. Minor minor scratches on to the side of the front element? I would negotiate down and consider buying it. A scratch in the middle of the front element? Again walk away. Another thing is to look through the lens see if there's any mold growing? If there is, I'd like to take a photo and see if it actually effects the image. I have actually seen mold grow inside lenses with no apparent problems! But I'd definitely use that to negotiate the price down. Then the next thing is to check the lens mount. If the edges around the lens mount are not sharp or the silver parts are turning yellow it means that it has been mounted and dismounted a lot and therefore used a lot. Pretty much all my lenses are like this because I use my lenses a lot. So in other words if you see my stuff on Ebay? You'll want to avoid it. This is not to say that my equipment doesn't work. It works just fine, but everything has a shelf life and you don't know how long that piece of equipment is going to last. In the end you'll have to decide whether or not any of these problems are ok for you.
What if you can only buy the piece of equipment on the internet? In that case you'll need to look at the photos more closely. A lot of what I just mentioned can be seen in photos if you look closely. Again look for any scratches or dents on the barrel. Remember dents indicate drops and scratches indicate heavy use. All of the rubber areas on the lens should also be black. If they have lost their deep black color it also indicates heavy use.
As for digital cameras. I'm reluctant to buy old technology, unless that's all you need. The thing is that cameras have advanced by leaps and bounds with every new model. From faster and more responsive focus to better metering to better resolutions at higher ISO's. Most cameras on the used market tend to be older. But of course there are exceptions. So what should you look for? First of all look for someone who seems to be an entire kit of equipment. Why? Well, there's always that person who bought a ton of expensive equipment and got in over their head and now they want out. This is the ideal person to buy from, because they have not used the equipment much and it should be in pristine condition. But if you are buying older used camera, remember, cosmetic issues are a good indicator of use. For instance my camera has tons of wear marks around edges. Where things should be black they are now silver. Another indicator of the camera's condition is the shutter count. This is how many clicks the camera has had. This is important because DSLR cameras are rated for about 100,000 shutter clicks. With film, most people were never going to get close to that in a lifetime. But with digital there is a much higher probability for this to happen. My previous camera had over 150,000 shutter actions. If you cannot get a shutter count from the owner but have the opportunity to handle the camera you can use your ears to evaluate the camera. Yup. As cameras experience more shutter clicks the clicking sound of a DSLR will start to sound dull. The duller the sound the more shutter clicks it's had. So what about mirrorless? Mirrorless cameras also have a shelf life. Although they can last longer, I've seen numbers of up to 400,000 frames, the more frames it's had the more wear and tear it has had on things like the shutter button, lens mounts and other moving parts. So this is still something to keep track of. It goes without saying that the older the camera the more action it has seen, the less value it has as it's closer to death. At the end of the day, you're going to have to take a look at the camera and do the cost/benefit analysis.